Heading Tags! Welcome to our latest article "what are heading tags"
One of the most important factors that contribute to better ranking on SERP.
Now, what exactly are heading tags in SEO, they are heading in a content that are used to give a proper structure and readability. 
It helps users and search engine bots or crawlers to read and understand text of the webpage. 
The order of header tags <h1>, <h2>, <h3>, <h4>, <h5> and <h6> as per the importance of each, which means anything between <h1> is a heading.
Therefore, content within H1 carries the most weight than H6.

In a nutshell, no one can deny the significance of optimizing heading tags for better search ranking.
B. Why should we know what Heading Tags Optimization is?
1. To give structure to your content/webpage
Let us see how well organized header tags make a good structure page for both users and search engines.
Good web page structure helps both people and search engines, crawlers etc — to interpret your site. 
Using accurate ordered heading tags such as – H1, H2, H3, etc.- in your web pages makes it easier for people to understand them.
Similarly, search engines rely on these header tags to interpret what your website is all about. 
Managing and maintaining clear content structure is an essential part of a good content plan.
Heading tags help you provide a good structure to your content.
H1 tag provides concise information of the webpage, while H2 tags help break that summary into first level ideas, with further subheadings structured across H3-H6.
In this way, it creates logical content that is super easy to consume.
As an example, the title of this post is in the H1 tag, followed by many ideas represented under the H2, H3 tags.
Here's a visual example of good heading tags:-
H1 > What are heading tags?
   H2 > Why should we do Heading Tags Optimization
     H3 > To give structure to your content/webpage
     H3 >  To boost your SEO Score
2. To boost your SEO Score
Yes, you heard it right!
Optimizing header tags with proper hierarchy will boost your SEO Score.
How, just optimizing header tags won't help you; there are many other ON PAGE FACTORS that can't be ignored.
If you don't know ON PAGE SEO CHECKLIST, then you are in DANGER to lose ranking for your targeted keywords.
Therefore, everything becomes important; as they help Google Search Bots in understanding the relevance of your web page with the user search query.
3. Helps to get ranked for Featured Snippets
If you are thinking to rank for featured snippets on Google.
There is only one way to do that; make sure Google understands your webpage content instantly through heading tags when it comes for crawling.
As shown in the above example, heading tags give an accurate structure to your page making it easy and fast for both users and search engine bots to understand.
4. Make the page more relevant
Google Bots are programmed to read the text within the heading tags as more important and on high priority.
Hence, when words are used in header tags they weigh more than the rest of the page.
Therefore, Google shows the most relevant page to a user query based on words present in header tags.
So, that is why targeted keywords must be present in Heading tags and only H1 Tag should be used.
For example, if the keyword you want to target is "header tags", you would use that in your h1 tags, and will try to use in other topics in your outline:
H1 >> Header Tags: The Ultimate Guide
H2>> What are header Tags?
H3>> Why should we do header Tags Optimization?
<p> To give structure to your content/webpage
<p>To rank for Featured Snippets
H4 >> Best Practices for header tag Optimization
<p> Use only 1 H1 Tag
<p> Include keywords in your header tags
C. 5 Best practices for Heading Tags in SEO
Keep one thing in mind, always try to use only H1 Tag.


In 2019,John Muller clearly said that you can have more than H1 tags in your content.



However, most of the SEO professionals still believe that there should not be more than a single H1 tag in your content.
The reason behind it is; the H1 tag is the summary of your webpage/content, and adding multiple H1 in your content will make the value thinner (for both the user and Google).


So, USE ONLY 1 H1 tag.




There are no limits on H2 to H6 tags, use them as much as you can.
2. Include keywords in your heading tags
Always add your focus keyword phrase within H1.
Objective: Your H1 is the summary of your page, so it's the best way to show the topic what you are covering through your target keyword.
When it comes to H2 to H6 tags, only put your focus keyword phrase, where it looks natural.
Advice: If possible try to add your targeted keyword in H2 and H3.
If H3 is not possible then go for H4.
Suggestion: Don't try to over-optimize your subheadings (H2 to H6).
3. Don't overuse Heading Tags
Using and Optimizing is one thing.
But as you know excess use of anything is bad;  the same case is here.
Don't overuse your heading tags; simply putting, don't add keywords in each heading tag you use.
4. Make the most of H2 and H3 tags
As you know, you can only H1 tag for once, but there are no limits on the usage for H2 and H3 tags.
So, use them wisely!
Make sure that the use of H2 and H3 tags is in logical and proper hierarchy order within the content.
For example, if the target keyword is SEO;
One H1 tag: What is SEO?
H2: Techniques of SEO
H3: On Page SEO
H3: OFF Page SEO
H3: Technical SEO
H2: Benefits of SEO
5. Make Headings Interesting
Always try in each and every case, make your header tags interesting and captivating.
Give special focus to  your H1 tag as it is something everyone overlooks.
Captivating header tags encourage users to click and read for a while.
D. Frequently Asked Questions (FAQs)
#1. What are heading tags in SEO?
Heading tags are HTML tags that are used as headings and subheading in a webpage content which helps users and search bots to better understand. 
#2. How many levels of heading tags are there?
The headings tags are divided into 6 tags starting from H1, H2, H3, H4, H5 and ending at H6. H1 being the most important and H6 the least important.
These heading tags in SEO are used to give structure to the webpage content.
#3. Do H1 tags matter for SEO?
Yes, H1 tag matters for SEO because it makes users and search engines understand the context of the page quickly and easily. 
Consider H1 tag as the summary of the webpage.
#4. Can we use multiple H1 tags?
As stated by in 2019, John Muller clearly said that you can have more than H1 tags in your content.
But I think practically there should be only 1 summary of a content. 
That's why SEO Professional still prefers to use only one H1 tag.
I hope you liked our "What are heading tags" article. 
We can conclude that heading tags are a really impactful factor to boost ranking on SERP.
Together with proper meta descriptions and page titles, heading tags are a key piece of your on-page SEO strategy that you must not ignore at all cost.
Key Point: Remember to focus on the reader when writing heading tags.
If you have any doubts just mention it in the comments, we will try to answer your queries.
And don't forget to share this article!
Search engine optimization- Module 7
Before we get to know what is search engine optimization and how does it work. 
Let us know what is search engines, types of search engines and why search engines are significant for business.
Social media optimization-Module 6
So we are going to start social media optimization from social media fundamentals.
SOCIAL MEDIA FUNDAMENTALS INCLUDE:
What is social media?
Initiation of Google analytics- Module 5
In this fifth module of initiation of google analytics, you will learn all about what is google analytics, how to set up account, the structure of google analytics why to use it, types of google analytics report etc.
Initiation of blogging-Module 4
Before we dive into digital marketing, let us know the meaning of blogging and how to use blogging for your business or as a career. A blog…
Meaning of video marketing- Module 3
Animated video is the present and future of video marketing. You are in the right place if you want to learn how to make an animated…
Meaning of Graphic Design- Module 2
As we now know what is the meaning of the graphic design, how graphic designing works, the definition of graphic, types of graphic design, elements of graphic…
Introduction of digital marketing- Module 1
We must be aware of the history of digital marketing before diving into digital marketing. Nowadays digital marketing is shining like a crystal with growing opportunities…
Summary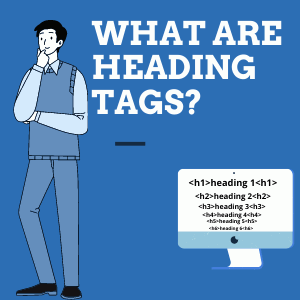 Article Name
What are Heading Tags? How To Make Your Tags Matter the Most in SEO: The Ultimate Guide
Description
Heading Tags! Welcome to our latest article "what are heading tags" One of the most important factors that contribute to better ranking on SERP. Now, what exactly are heading tags in SEO, they are heading in a content that are used to give a proper structure and readability
yugam mehta
Digiaaj
https://digiaaj.com/wp-content/uploads/2019/05/Digiaaj.com_.png