Aren't you excited about How To Make A Logo For Free Online?
So lets start!We all know logos are important for a business or websites or blogs, but why?
Why businesses spend a lot of money in LOGO.
Are they mad? No, they are not!
Answer me question, would you be able to remember a long paragraph or a symbol logo?
A simple logo, right! 
Now why is that, because a good logo is recognisable, memorable, and triggers positive experiences.
Logos are the face of your brand.
Build your own logo with digiaaj in easy steps.
Now, before we start learning, how to make a logo online for free in 2020.
Lets clear some other things as well which according to me are important as well!
A logo in simple words is a Symbol.
Symbol of your business.
It is a visual representation of your business, additionally it represents the idea of your business.
It carries information which a customer can understand easily.
There are three types of logo you can choose from:
1- Text Based Logo
In the Text Based Logo there is only the name of the company with an attractive font and typography.
For example – Coca-Cola
2- Image or Icon Based Logo
In this Image or Icon Based Logos, there are only graphical representations of the company with no text.
For example – Nike.
3- Combination of Both
In this type of logos there are combinations of text and icons. This is one of most common types of logos which are preferred by all.
For example – Starbucks

Have you ever seen a business or MNC or a blog without a logo?
Have you ever thought about why logos are so important?
Still not assured? Learn the importance of having a great logo.
Visual Conveying: –
Logo acts like a Visual Communication as they say it all because there is clarity of message in the logo.


They share emotions and feelings.




Logo is a part of branding it will help you in setting an image about your business.




Remember the phrase first impression is the last impression it applies here.




Moreover, human beings respond to images more effectively than words!

Stands Unique :-
Your logo makes you different from your competitors.
A good logo will work for you timeless, so when you think of a logo for your business or website or blog it must be relevant for a long time.
A good design can encourage customers to learn more about your business or blog or website.

Additionally, if you are in the industry or business competing with similar products, logos are the key that helps in distinguishing yourself and getting noticed and remembered.

Online Marketing has never been more important than now, people are spread all over the internet and a good quality logo will outshine your competitors.

Builds Trust :–
Yes, it is true. Logo builds trust.
Just take examples of brands like Coca-Cola, Mcdonalds, StarBucks etc why people have faith in them because they have managed to build trust factor in the mind of the consumers.
Quick Recognition: –
Logo helps in quick recognition of a company due to the fact that words are difficult to memorize.
Remember the saying, a picture is worth 1000 words.
The logo makes the brand's identity quickly identified.
Branding :-
One of the purposes why logos are made by business owners or internet people is to make a brand out of it.
It helps in creating brand identity for a business, website or blog.
Now, next thing how to design your own logo from scratch?
Designing your own logo from scratch is not an easy part but with consistent efforts, it can be easily made if guided properly.
Some best ways to how to make a logo from scratch is to start:

Exploring Ideas – Now when you want to make a logo for your business or blog or website, the first step you should follow is to brainstorm ideas by seeing your competitors logo, and understanding what their logo expresses.




Second, you can search Google for examples by typing "business category/ keyword + logos", you can then go to the images section and get inspired.




Third, go to freepik and just type in the search bar whatever you feel is relevant to your business or blog or website.




When the exploration part is done in

how to create your own logo from scratch

we move to a platform.

 

Choose A Platform – Second step after exploring ideas about your logo, you have to choose a platform where you will make your logo.
Now this is where people get confused because there are numerous options.
But I'll make it easy for you, go to canva.com .
Type of Logo – After you have decided on which platform you want to make your own logo, you have to choose which type of logo you want.
OR
Which logo your competitors are using!
OR
Which logo is trending in your industry!
Basically as explained above, there are three types of logos:
Text Based Logo,Image or Icon Based Logo and Combination of Both.
Choose Colour Carefully – After you have decided your platform, you have to choose a proper colour combination, because every colour expresses something.
Every business needs different colours for example if we see all the social media platforms like facebook, twitter and linked, you can see their colour is BLUE.
Red: Red stands for strength, power, anger and love. It's a great choice if your brand 
Orange: Orange shows happiness, creativity and joy. 
Yellow: Yellow expresses freshness, positivity, clarity and optimism.

 

Right Typography – Typography is really a crucial part of how to design your own logo from scratch in 2020.
Typography means the style and appearance of written words which looks appealing when displayed.
Ask for feedback – This is really important! Share your logo with your friends and family and ask their review about your logo because if the customer does not find it understandable and attractive there are no benefits of making one.
Like this you  how to create a logo from scratch.
Designing your own logo has never been so effortless but now it is.
When you want to create a logo by yourself I only recommend one platform for it and that is Canva.
Learning how to make a logo in canva is not hard at all!
I have used this amazing tool for almost 2 years and I don't find any issues with it.
I am not a professional designer but using this so easy that you can easily do the graphic designer by yourself.

The answer to your question "How To Design A Logo in Canva" is simple and easy.
Follow simple seven steps.

Step 1: Create A Account –
The first step is very simple: you have to search canva in Google or any other search engine or click this https://canva.com link and sign up in canva, fill all the details, confirm your email and login.
This is a free platform which I have been using for a long time and I love it.

Step 2: See Search Bar –
After you login the canva you can see the search bar in it. Click on the search and start typing LOGO.
You can see various types of logo but choose the first one.

Step 3: Choose Blank –
After the second step is done you have to choose a blank template.
Skip step 3 if you are a newbie.
Step 4: Choose Any Template According To Your Business –
Now you can see on the left side of the screen, there are various types of Logos available like Gaming Logo, Education Logo etc. You have to choose the one which matches your business category.
For example – If you are running a restaurant you must select a template from Food/Drink Templates.
Step 5: Choose Your Colour –
As I already told you about how important role colours play!
Choose your colour carefully, according to me if you are running a restaurant you must colours like Yellow, Red, Orange.
Rest you can see.

Step 6: Choose Your Typography –
Your words should look good and must be readable.
It must be attractive as well.
Step 7: 
Save and Download – The last and final step is download the logo in PNG format and use it wherever you want.
That's How To Make Your Own Logo in Canva in 2020 and this one of most effortless methods for How To Make A Logo For Free Online.
Also see this "How To Design A Logo Using Canva" video for better understanding of the concepts.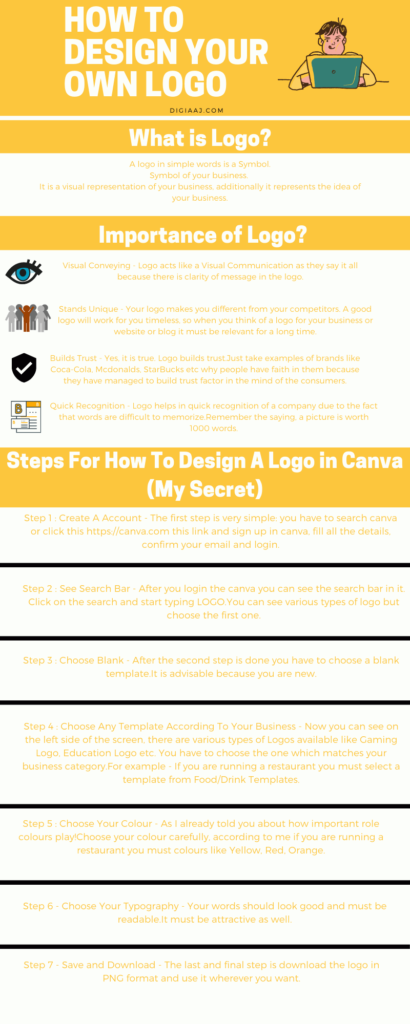 Search engine optimization- Module 7
Before we get to know what is search engine optimization and how does it work. 
Let us know what is search engines, types of search engines and why search engines are significant for business.
Social media optimization-Module 6
So we are going to start social media optimization from social media fundamentals.
SOCIAL MEDIA FUNDAMENTALS INCLUDE:
What is social media?
Initiation of Google analytics- Module 5
In this fifth module of initiation of google analytics, you will learn all about what is google analytics, how to set up account, the structure of google analytics why to use it, types of google analytics report etc.
Initiation of blogging-Module 4
Before we dive into digital marketing, let us know the meaning of blogging and how to use blogging for your business or as a career. A blog…
Meaning of video marketing- Module 3
Animated video is the present and future of video marketing. You are in the right place if you want to learn how to make an animated…
Meaning of Graphic Design- Module 2
As we now know what is the meaning of the graphic design, how graphic designing works, the definition of graphic, types of graphic design, elements of graphic…
Introduction of digital marketing- Module 1
We must be aware of the history of digital marketing before diving into digital marketing. Nowadays digital marketing is shining like a crystal with growing opportunities…
Summary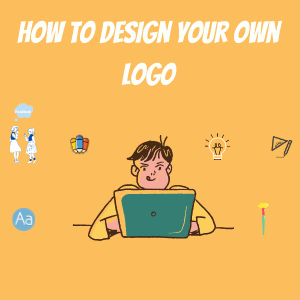 Article Name
How To Make A Logo Online For Free
Description
Before we start learning, how to make a logo online for free in 2020. Lets clear some other things as well which according to me are important as well! We all know logos are important for a business or websites or blogs, but why?
yugam mehta
Digiaaj
https://digiaaj.com/wp-content/uploads/2019/05/Digiaaj.com_.png