In the year 2020, it is more important for a business owner or blogger or digital marketer to make a significant impact on its audience, and this can be possible when you know How To Make Whiteboard Animation For Free.
Nowadays, people want attractive graphics, short animated whiteboard videos that look catchy, and help businesses/bloggers to get higher engagement.
Animated whiteboard videos not only entertain watchers, but they also have a positive influence on the targeted audience's mind and they can recall the contents once the video is over. 
In simple words, it creates better user-experience when used on websites.
Before we learn how to make whiteboard animation video free, let's read what whiteboard animation videos are.
In a recent study, it was found that having animated whiteboard videos can boost up to 150%.
In this article, we will let you know the exact steps to create a whiteboard animation video and which tool you should choose to make your video more efficient and effective.
A whiteboard animation video is a process of communicating information with users by combining animated illustrations with a voice-over or sound or both and using hand's sketching on the whiteboard. 
You can use whiteboard animation videos to create educational presentations, product demos, etc.
It is the most popular type of animation because it break-downs difficult concepts and makes it easy for the viewer to watch, understand, and engage. 
The hand drawing animation adds a catchy element to the video which again draws the attention.
So, it is one of the best strategies to catch the attention of the users, and when you can learn How To Make Free Whiteboard Animation Videos, what else do you want?
How to make a whiteboard video free making is not that hard; you just need some things to make it a complete success.
There are a few strategies that you need to go along with for creating whiteboard videos that will help you achieve your aim.
Message or Script – The very first thing you need is a script or series of messages that you want to convey to the target audience through your whiteboard videos.
Without the script, it is not possible to make whiteboard animated videos.
Your script or message should answer the following questions:
What is your product or service?
For whom is it for?
What problem does it solve?
2. Software or Tool – In the process of how to make whiteboard animation free.
The the second thing you will need is a tool or software, that will help you in making attractive videos and publishing it.

3. Sweet and short Video – Always keep in mind that your whiteboard videos should be short and concise. The message should be easily understood by the people.
Now let's move towards the part, where you can learn step by step how to make whiteboard animation free.
There are plenty of tools you can use for making whiteboard videos but I prefer powtoon.
I have been using this great tool for more than 2 years and it is really simple to use, even for beginners.
Let's get started!
Create an account

– The first for making a whiteboard animation video is to create an account in powtoon.
Now powtoon is a free tool you can use to make whiteboard videos.
Click the link https://www.powtoon.com/ and create the account.
2. Click Blank Template – After creating the account, you should log in. You will blank the template option and just click it.
3. Choose Whiteboard – After clicking the blank template, you must choose the whiteboard option you can see on the screen. Because you want to make whiteboard videos.
4. Choose a character – Now, after selecting the whiteboard option, you have to choose a character from the options available. It will attract the minds of the viewers.
Always choose the free ones!
5. Create a Message – Now, you have to think about the message or story you want to convey to your audience. It's a script. Without this, you cannot make a whiteboard video because you must be clear what message you want to send to your target audience.
6. Add text in each scene – Now add those messages or script in each scene. Making it understandable and in sequence.
7. Click settings and select text effects – Once you have added the text in the scene, what you have to do here is click the text and then go to settings and choose the text effects. There you can see hand text effects.
8. Add enter and exit effects for scenes – Also you can add entry and exit effects for each scene making it more impactful and memorable.
9. Manage the timing of each scene – Also you can add and reduce the length of each scene making it long or short as per requirement.
Bonus Tip – Your whiteboard video must be in between 90 seconds to 2 minutes.
10. Add music – Without music whiteboard videos are incomplete. You can add free music to your videos from powtoon.
11. Preview and Export – Once you are done creating your whiteboard video, you should first preview your video! It is really necessary to check if there are any errors or not.
Make sure there are no timing errors. See if your message is getting conveyed or not. If everything is excellent, export it directly to YouTube and download it from any online tool.
Let people see your amazing animation, share everywhere you can on websites, social channels, etc!
If you have any issues see this amazing how to make whiteboard animation video for free.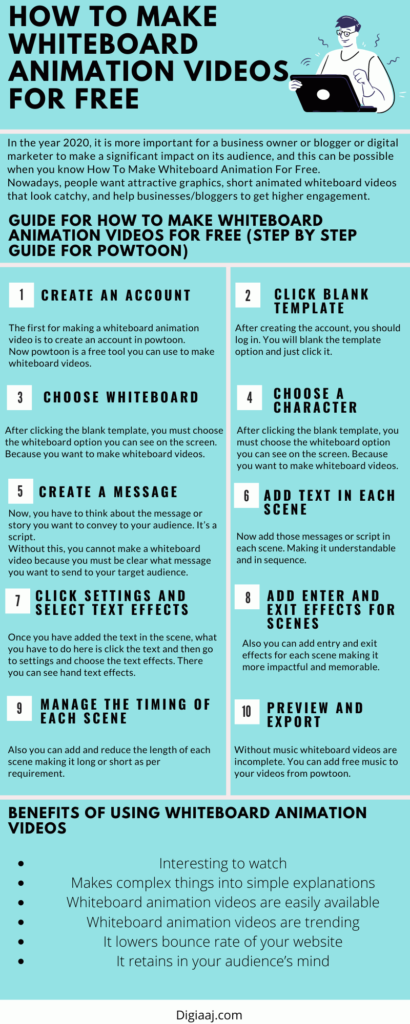 If you know How To Make Whiteboard Animation For Free several benefits are advantageous for you.
You must know why you should choose whiteboard videos over traditional advertisements.
Interesting to watch:
Why whiteboard animation videos are interesting to watch because they are:
Attractive

Simple

Less Time Consuming
Psychologically, people react more to a video.
By adding effects and an attractive voice or music you can make a whiteboard video more engaging. 
Sharing your ideas and messages through whiteboard videos is the best way for communication.
Also, you can use them to introduce your business or blogs to your target audience.
Now when you follow the guidelines for How To Make Whiteboard Animation For Free, you can make your explainer videos.
2. Makes complex things into simple explanations:
One of the most advantageous things of using whiteboard videos is that it makes difficult things explained more simply and understandably.
When people are entertained they learn better, and this is why you can use the power of whiteboard videos to teach any complex concept to your audience simply!
Previously it was tough to explain complex things but with the help of this modern way of communication, it is now easier.
3. Whiteboard animation videos are easily available: 
The INTERNET has changed EVERYTHING!
Whiteboard videos are easily accessible. How?? You can publish your whiteboard animation videos on YouTube or Vimeo or Facebook or Social Channels. Wherever you feel like you can share it with your audience.
You can get likes, shares, comments and this is the best way to get in touch with your audience.
4. Whiteboard animation videos are trending:
Now, a question must be popping up in your mind why whiteboard videos are trending! 
The only fact which I understand behind its trend is that it communicates very effectively with its targeted audience.
5. It lowers bounce rate of your website:
Now when you put your whiteboard videos on your websites, it has a positive impact.
It lowers the bounce rate of your website as the audience which comes to your website will interact with the videos because they are user-engaging.
They will click the video, will watch, and share it!
6. It retains in your audience's mind:
Now when something is engaging, obviously it will be retained in the mind of the audience and this is very good for business or blog or personal brand.
These are the benefits of learning how to make whiteboard animation video free and executing it for higher user engagement.
If you are reading this I am 100% sure why it is necessary to cope up with new digital marketing strategies for any blog and business.
Now, are you ready to create awesome whiteboard animation videos?
Well, what you can learn from this article is that whiteboard animation videos are really important for enhancing the digital presence of your business or blog or personal brand.
How to make whiteboard animation free is essential as it will save your pocket.
I hope this article "How To Make Whiteboard Animation For Free" has been helpful.
This can be your step by step guide or tutorial for making whiteboard animation videos.
In case of any doubts, feel free to share your queries in the comments
Search engine optimization- Module 7
Before we get to know what is search engine optimization and how does it work. 
Let us know what is search engines, types of search engines and why search engines are significant for business.
Social media optimization-Module 6
So we are going to start social media optimization from social media fundamentals.
SOCIAL MEDIA FUNDAMENTALS INCLUDE:
What is social media?
Initiation of Google analytics- Module 5
In this fifth module of initiation of google analytics, you will learn all about what is google analytics, how to set up account, the structure of google analytics why to use it, types of google analytics report etc.
Initiation of blogging-Module 4
Before we dive into digital marketing, let us know the meaning of blogging and how to use blogging for your business or as a career. A blog…
Meaning of video marketing- Module 3
Animated video is the present and future of video marketing. You are in the right place if you want to learn how to make an animated…
Meaning of Graphic Design- Module 2
As we now know what is the meaning of the graphic design, how graphic designing works, the definition of graphic, types of graphic design, elements of graphic…
Introduction of digital marketing- Module 1
We must be aware of the history of digital marketing before diving into digital marketing. Nowadays digital marketing is shining like a crystal with growing opportunities…
Summary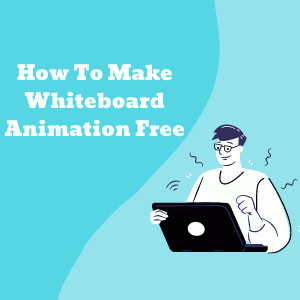 Article Name
How To Make Whiteboard Animation Videos For Free Online in 2020 And Beyond
Description
In the year 2020, it is more important for a business owner or blogger or digital marketer to make a significant impact on its audience, and this can be possible when you know How To Make Whiteboard Animation For Free.
yugam mehta
Digiaaj
https://digiaaj.com/wp-content/uploads/2019/05/Digiaaj.com_.png