Animated video is the present and future of video marketing.
You are in the right place if you want to learn how to make an animated video for free.
Also through this article you can make your own animation video free.
One of the most important things in today's time is that consumers should have knowledge of your products about what they are offering.
68 percent of consumers agree that they prefer to watch a video to learn about a product or service.
Plus,79 percent say that after watching the video they made a purchase.
Making a perfect animated video is a challenge in itself.
You can do it by yourself or can hire an animated video maker
Before you learn how to make animated videos for free, let me tell you how you have made the right decision:
85% of US people watch a video by statistic, 2018
Demand for video marketing is increasing, as 54 percent of consumers desire more videos of brands they prefer, by HubSpot,2018
Powerful marketing tool, 87 percent of professional use video marketing as a marketing tool, by Wyzowl 2019
Consumer prefer watching video on social media of brands, by Animoto 2018
More engagement- Videos engage more users as 88 percent of people spend more time on your website with a video, by Forbes 2018.
BENEFITS OF USING ANIMATED VIDEOS
Well, there are many benefits if you know how to make animated videos for free without spending a single penny.
Isn't that awesome if you aware of the tricks to  make your own animated video, see the benefits below:
More engagement
Easily convey your ideas and messages to the audience.
More conversion
More engagement
Easily shareable
Better google results
Decrease in Bounce Rate
More Goal Completion
There are many tools you can to create your type of animated videos like powtoon, biteable, vyond, etc. But I will explain you how to make animated videos for free with powtoon.
Steps You Must Know When You Have Decided to Create Your Own Animated Video:
1-To find a platform where you make animated videos- The first thing is to choose the right platform when you have decided to make explainer videos for your business.
There are various platforms like Powtoon, Bitable, Vyond, Animoto, etc.
I am going to explain to you how to make a video using powtoon.
So the first thing you have to do is to create a free account in powtoon.
Go to https://powtoon.com, in your browser.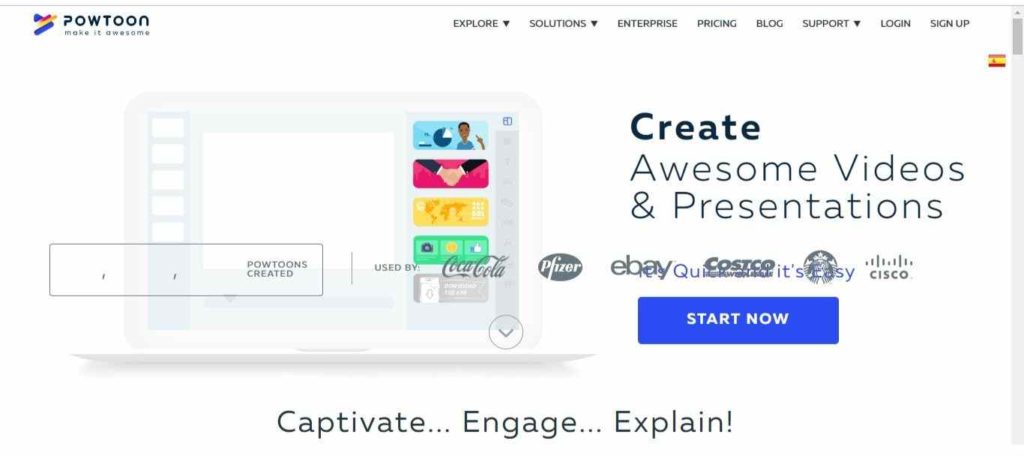 Click the Signup button for registering yourself. You can register with Facebook, Google or Email Id.
Select the one in which you are comfortable.
2- What type of video you want –In this step, you have to decide what kind of video you want to make like whiteboard videos or explainer videos.
There are different templates for different kind of videos
Since I am using powtoon, so after confirming your email, you have to login and click on blank powtoon
So choose the one you want.
3- Add script- After you choose what video you want to use for your business, the next step is to create a script.
A script is always a very important part of your explainer video.
Having a voice over is better as it drives the story. You can voice over yourself or can hire someone.
A script is a series of text you want to put in each slide of your video which makes a complete sense and share your message to your audience.
Just have a idea of the script which you want in the next step of video creation.
Your script must answer the following questions:
What is your product?
Why it is made?
For who it is made?
How does it solve problem?
Always make your animated explainer video around 1 to 2 minutes.
When the video is completed it's time to export it and share it.  Youtube is very popular for hosting videos 
4-Start creating- The very first thing which you have to do after selecting the type of video is to select a introductory scene in your video.
Click on the scene icon and a slide will occur in which you can choose your intros scenes and remember to choose the free ones not the PRO because they are paid. Below is the image which will tell you where scene menu is.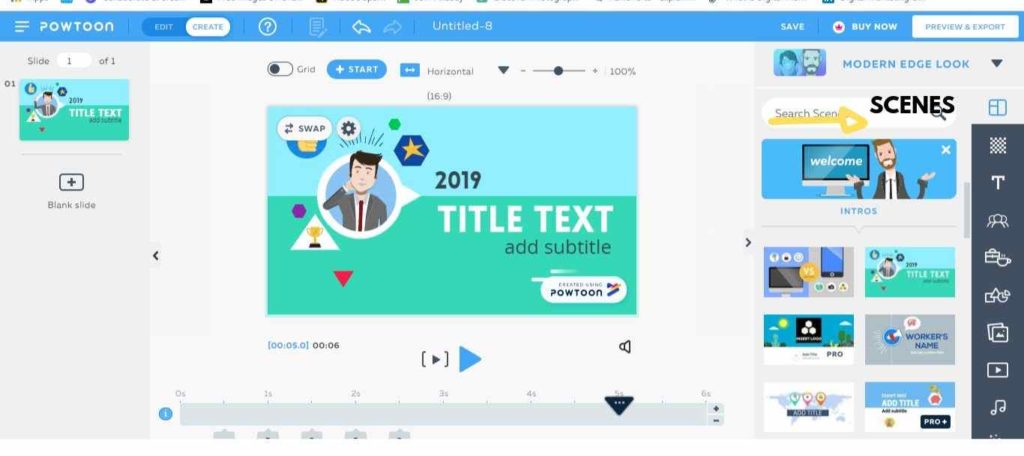 After you select a scene that will appear in your blank powtoon, the next step is to edit your text.
To edit your text click on the text which is on your screen and you will get a small window over your screen where you can change your text color, text size, font, opacity,can also add effects,align your text in centre,left or right.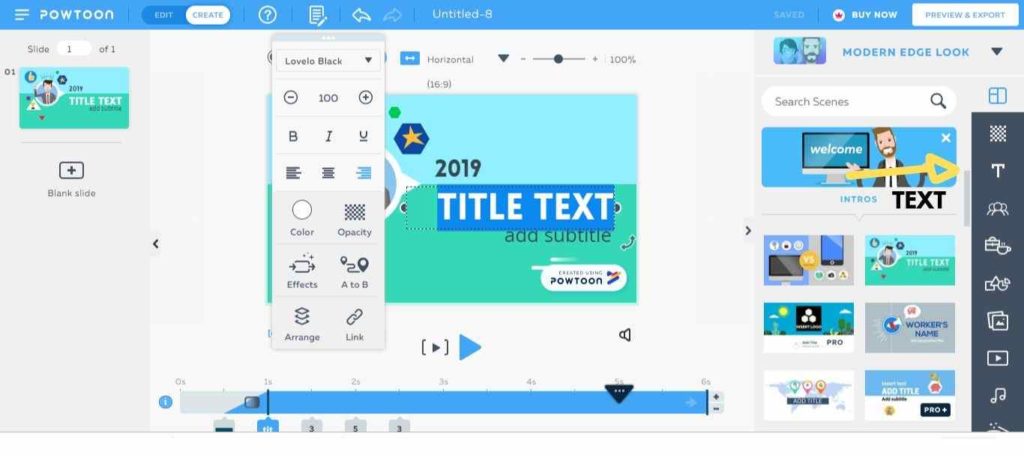 You can also change the text from the text icon marked by a yellow arrow.
After this, you can move towards the character icon where you can select different characters according to your need.
There are many versions of one character like in the below image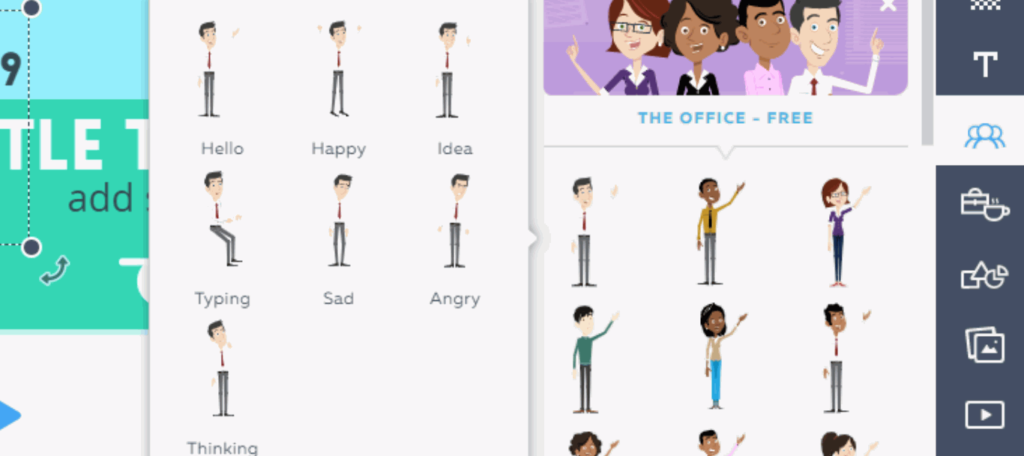 After you chose you your version of your character you can move forward towards adding props to your slide which is just below your character icon.
Below is the image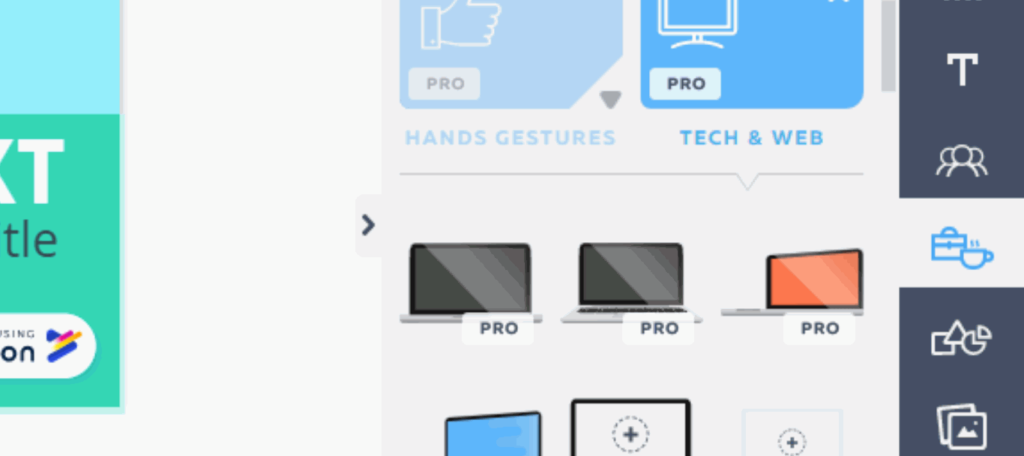 After selecting your props which you want to be in your slide you can move ahead to next shape icon step.
Here you have to select the shapes which you think you would want in your slide.
Below is the image which will help you find shapes icon.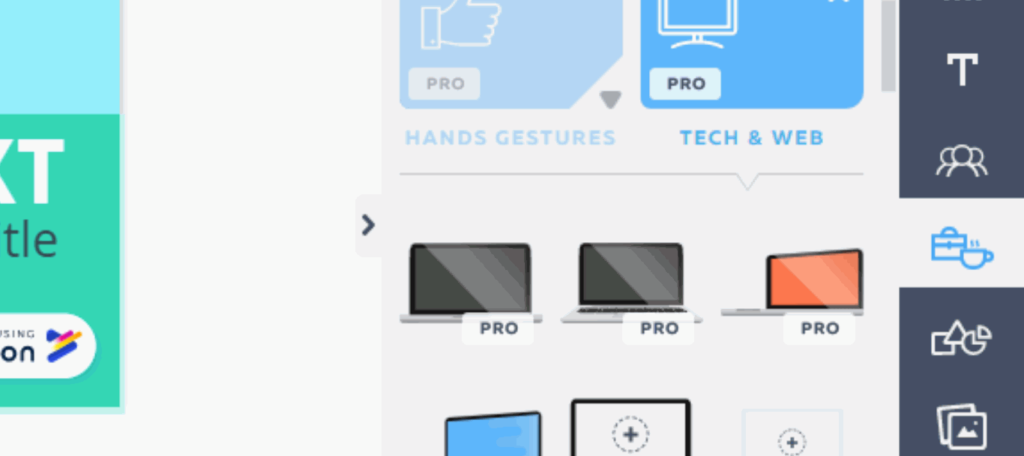 Similar to these you can add images, videos and special thing to your slide.
Note:If you think to you have done enough for one slide you can create another ans start repeating this process and also if you think there is no need to add props or shapes or anything you can avoid that, I explained in you in case you have to use it for yourself or for your clients.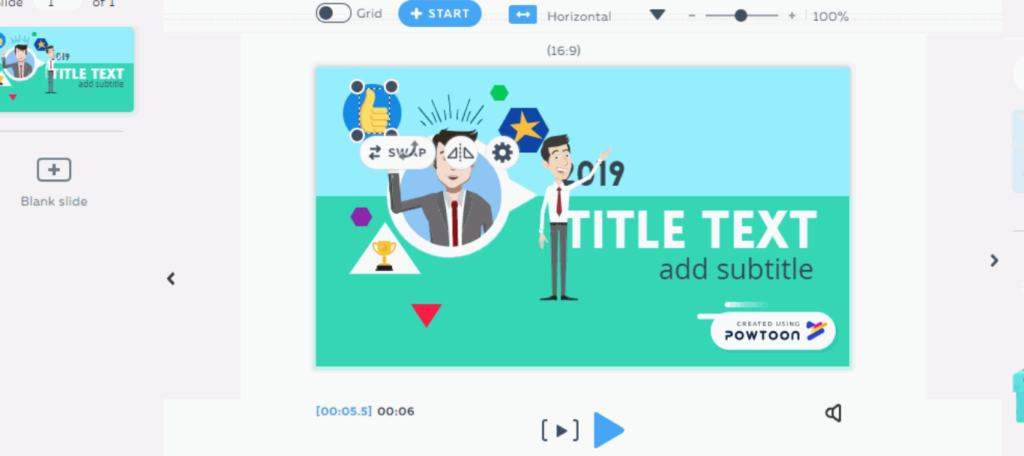 You can also check your every slide by clicking this play button and checking when each thing is occurring and if you think the video is long you can reduce the video time by clicking this minus(-) button which you will see in your slide.
5- Add sound- Adding sound is the most important thing because without sound your video is incomplete and no one would love it.
So choosing sound is like crucial part in how to make a animated video.
You can choose sound according to your video, for example, a birthday music would be great for a birthday video.
There are thousands of free sounds present in powtoon use the one which is  best for you.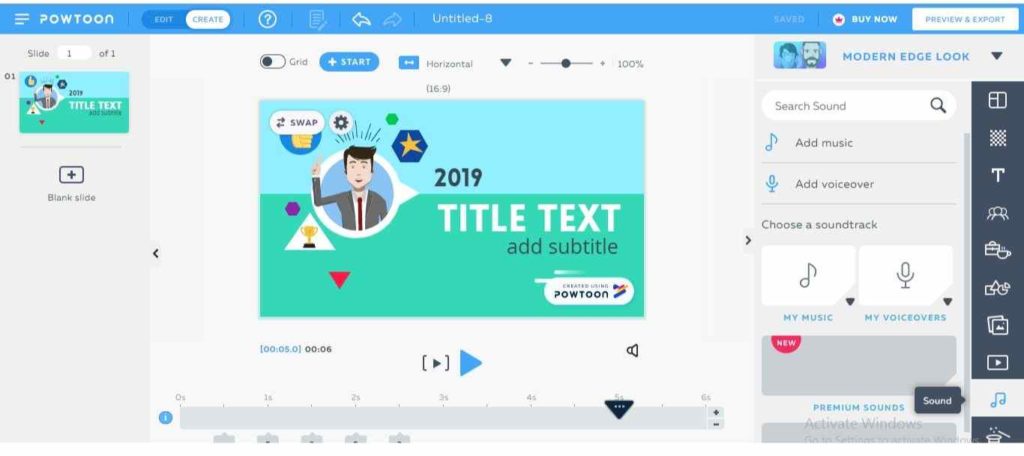 6-Publish- Publishing your animated videos is very important. There are so many platforms where you can publish your video like youtube, Vimeo, etc.
You can also start putting your video on social media platforms like Facebook, Instagram, etc.
This will help you can get more viewers.
When you have made your animated video in powtoon you can publish in various platforms but you won't be able to download it directly, you have to download it from the platform where you want it to publish.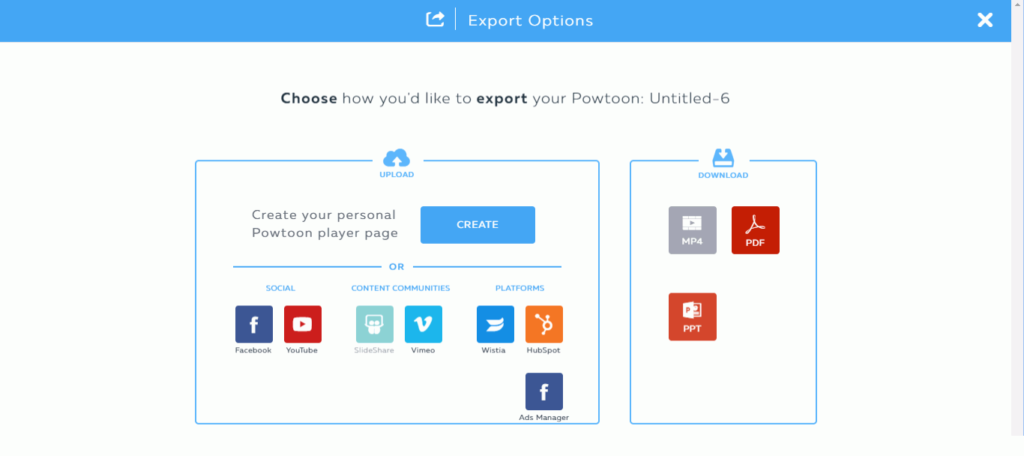 7-Promote- Promotion is itself a very crucial task, in this step you can take help of Facebook, Instagram, Youtube and many other platforms available.
Start sharing with your circle and ask them to spread.
This is the fastest and easiest way to create your own animated video.
I hope I was comprehensive enough to explain you how to make animated videos for free with powtoon.
If you have any doubts or suggestions mention it in the comment box.
If you like this content share with friends and family.
Search engine optimization- Module 7
Before we get to know what is search engine optimization and how does it work. 
Let us know what is search engines, types of search engines and why search engines are significant for business.
Social media optimization-Module 6
So we are going to start social media optimization from social media fundamentals.
SOCIAL MEDIA FUNDAMENTALS INCLUDE:
What is social media?
Initiation of Google analytics- Module 5
In this fifth module of initiation of google analytics, you will learn all about what is google analytics, how to set up account, the structure of google analytics why to use it, types of google analytics report etc.
Initiation of blogging-Module 4
Before we dive into digital marketing, let us know the meaning of blogging and how to use blogging for your business or as a career. A blog…
Meaning of video marketing- Module 3
Animated video is the present and future of video marketing. You are in the right place if you want to learn how to make an animated…
Meaning of Graphic Design- Module 2
As we now know what is the meaning of the graphic design, how graphic designing works, the definition of graphic, types of graphic design, elements of graphic…
Introduction of digital marketing- Module 1
We must be aware of the history of digital marketing before diving into digital marketing. Nowadays digital marketing is shining like a crystal with growing opportunities…
Summary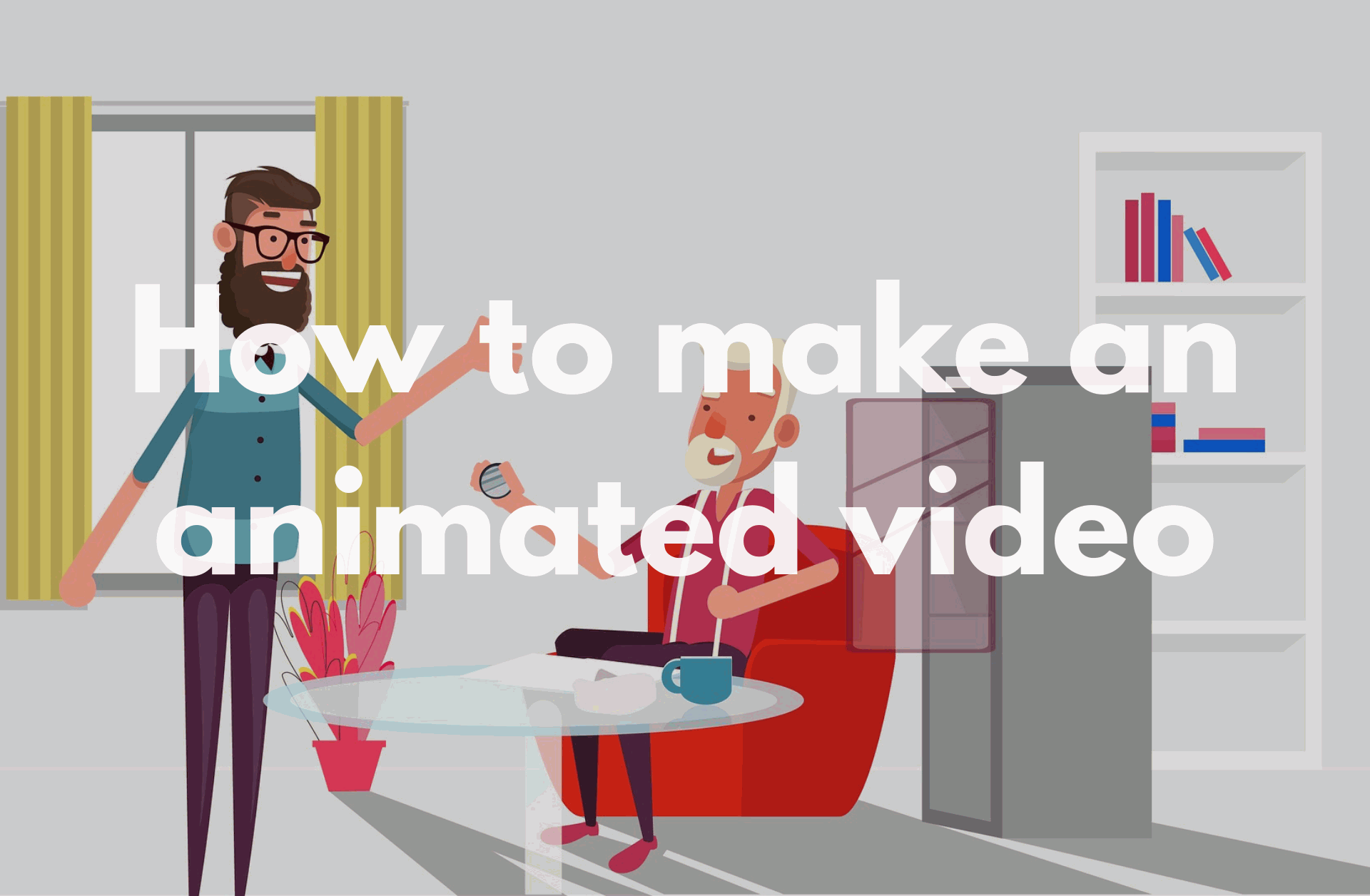 Article Name
How to Make Animated Videos for Free
Description
How to Make Animated Videos for Free Animated video is the present and future of video marketing. You are in the right place if you want to learn how to make an animated video for free.
yugam mehta
Digiaaj
https://digiaaj.com/wp-content/uploads/2019/05/Digiaaj.com_.png