Online Marketing Channels are basically channels or traffic acquisition channels from which you can get traffic to your website and make conversions or complete other specific goals.
Now when you know what online marketing channels are, let's understand what online marketing is.
What is Online Marketing?
Online Marketing is a way to spread out a company's product or services through online channels or internet marketing channels.
Online Marketing is a synonym of digital marketing, so the meaning of Online Marketing is same to that of digital marketing.
The methods used for online marketing include search engine optimization, email, Google AdWords, or Search Engine Advertising social media, and many more.
The main objective of online marketing is to reach prospective customers through the channels where they spend their most time searching, socializing online etc.
There are two types of online marketing channels:
1- Direct Channel
2- Indirect Channel
Direct Channel – It means people or users are directly visiting your site by clicking your URL.
Here, people would be directly typing your website URL which means they have visited it previously.
Direct Channel Traffic don't have to go through the search engines as they already are aware of your site and familiar with its content.

Indirect Channel – It means people or users who are visiting your site by clicking your URL through organic or paid search traffic, emails, social media etc.
These are those users or audiences who are not aware of you in the first place.
Indirect Channel is divided into three parts as well:
Search, Social media and Referral.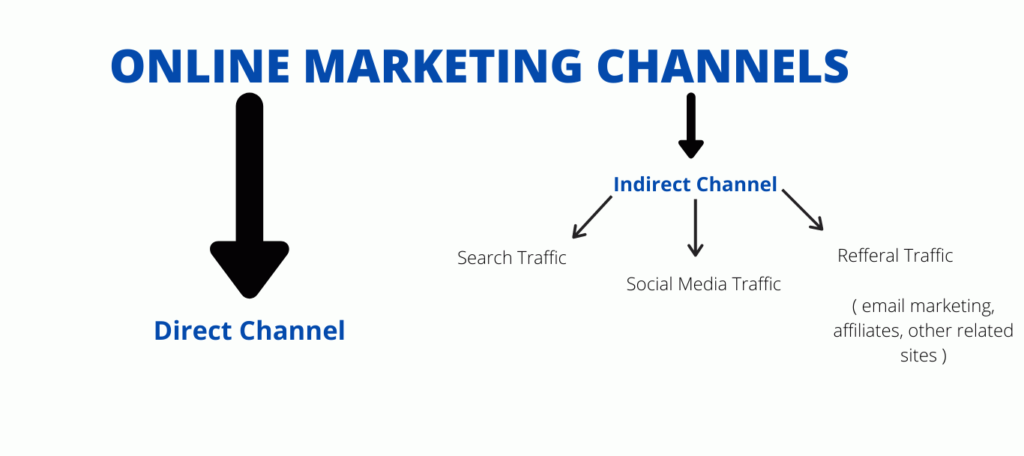 Search Traffic – All those traffic that comes from search engines it does not matter whether it is organic or paid.
Search Traffic is divided into two parts:
Organic Search Traffic and Paid Search Traffic.
Organic Search Traffic – Now, Organic Search Traffic is the traffic that a website gets through SEO. It is free traffic, the website owner or person doing SEO does not have to pay for the traffic coming from this source.
Search Engine Optimization is likely the best, as well as the largest source of traffic. Getting ranked for a competitive keyword will have a positive effect on your website. Peak ranking by search engines simply indicates that your website will have more visitors, and this is great for your business.
However, if you want to be top-ranked, you have to put great efforts for it and work hard is necessary.
Make sure that you meet all the requirements of the search engine optimization process. Your content must be unique and of high quality.
One important advantage of using SEO as a traffic source is that the visitors are highly targeted.
Lets see an example:
In this below image, you can if we search digital marketing courses, you can see some few organic results. These web-pages are ranking because they have good SEO to rank for this particular search term.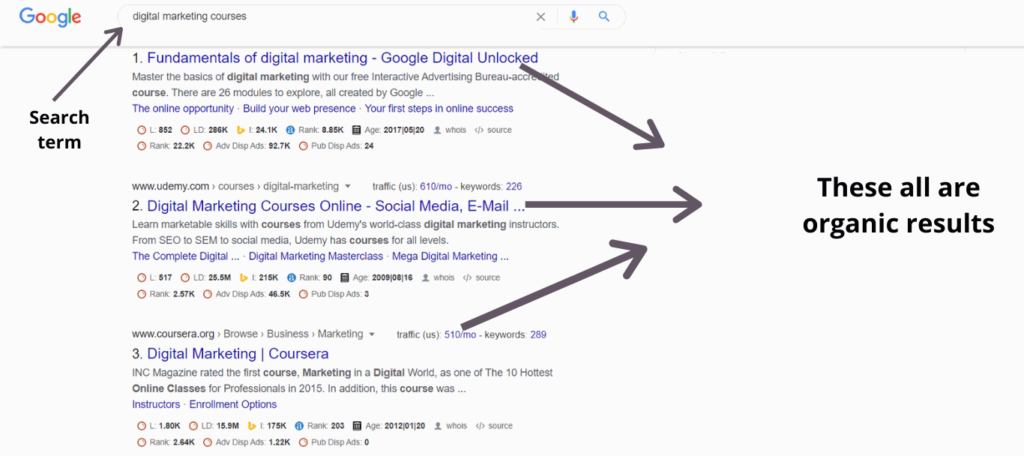 Paid Search Traffic – Now, Paid Search Traffic is the traffic that a website gets by advertising on search engines like Google, Bing etc. It is paid traffic, the advertiser has to pay for the coming from this source.
Paid Search Traffic gives you the power to reach internet users in a number of ways through paid ads.
In Paid Search Traffic the campaigns can be set-up based on the user's demographic characteristics (age, gender etc).

Lets see an example:
So which should you prefer: "organic traffic" or "paid traffic"?
You must be thinking about the question?
When people ask this question, they generally are comparing organic search traffic with paid traffic.
I have my own perception regarding this, if you are looking for long term traffic you should consider organic traffic because in the long run you won't be able to pay such an amount.
If you want traffic for short term or for some specific campaign then paid traffic is good.
No matter which traffic channel you choose, it takes effort to increase traffic to your website.
Pros of Using Search Engine Channels
High number of users

Better targeting

High Conversion

Long term ranking incase of organic search traffic.
Cons of Using Search Engine Channels
Ads Require Monitoring

Highly Competitive Keywords
Social Media Traffic – Those visitors or users who come to your website from social media platforms like Facebook, Instagram and so on.
Pros of Using Social Traffic
High User Base of Social Media

Social Media Builds Trust
Cons of Using Social Traffic

Social Media Profiles Needs Daily or Weekly Content
Referral Traffic – All those traffic that comes from other platforms or mediums  including apps but not search engines.
In simple terms, people coming to your website from another website by clicking the URL that is available on the other site.
Referral Traffic includes email marketing, affiliates, other related sites etc.
Pros of Using Referral Traffic
Auto – Scheduled Emails

Email marketing is cheaper

Affiliate Marketing is Outcome Oriented
Cons of Using Referral Traffic
Building Authentic Email List

In Affiliate Marketing Efforts are not guaranteed.
So above is the List of Digital Marketing Channels or Online Marketing Channels in 2020 from where you can derive traffic for your website.
Bonus Tip: Some experts also include social media in referral channels but I think that is not correct because Google Analytics shows social media reports separately.
Highly Targeted Customers – With the help of Online Marketing Channels, we can target the potential customers related to the business, because we are our business where the customers are available which increases the chances of higher conversion.
Better Online Visibility – In the era of digitization, using Online Marketing Channels improves online visibility of businesses as everyone is available online and can be reached through different channels.
Increased Reach – Online Marketing Channels are helping businesses to have a global reach, which means you can have a larger customer base in a short period of time.
Advantage of Social Media – Search Engines are not the only way to get traffic for your website!
Social media have 3.5 billion users worldwide. If you have built a community on Facebook or have a page with good likes and follows, this will give you advantage of social media as you will get a huge amount of traffic from this channel.
Bonus Tip: Also your social media status will help in getting a higher ranking!
Easy to Measure – What's the benefit of being digital, if you can't measure!
Google analytics and other tools have made it possible to know more about your users, their behavior, age etc.
Your Competitors are Online – You surely don't want your competitors to capture the online market. Do you?
Nowadays, businesses are deliberately working on websites and other channels to capture the market, so that they can be considered as a leader.
So, it's time you should start working too, see what your competitors are doing and then do it even BETTER!
Purchase Decision – Online Marketing Channels also has an important role in purchase decision making!
All the channels such as organic traffic, email, social media, affiliates etc influence the potential or present customer in the path to purchase.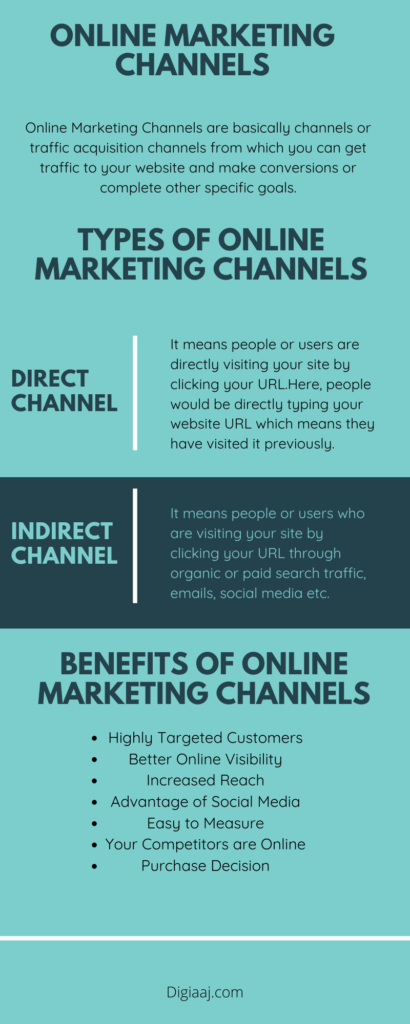 According to me, Organic traffic is the best though it takes time and effort but it is worth it.
There are more online marketing channels out there than ever before. Thinking to use as many as possible channels is never a bad idea. But, it is important that you use proper online marketing channels for your website.
Make a plan before you start!
Search engine optimization- Module 7
Before we get to know what is search engine optimization and how does it work. 
Let us know what is search engines, types of search engines and why search engines are significant for business.
Social media optimization-Module 6
So we are going to start social media optimization from social media fundamentals.
SOCIAL MEDIA FUNDAMENTALS INCLUDE:
What is social media?
Initiation of Google analytics- Module 5
In this fifth module of initiation of google analytics, you will learn all about what is google analytics, how to set up account, the structure of google analytics why to use it, types of google analytics report etc.
Initiation of blogging-Module 4
Before we dive into digital marketing, let us know the meaning of blogging and how to use blogging for your business or as a career. A blog…
Meaning of video marketing- Module 3
Animated video is the present and future of video marketing. You are in the right place if you want to learn how to make an animated…
Meaning of Graphic Design- Module 2
As we now know what is the meaning of the graphic design, how graphic designing works, the definition of graphic, types of graphic design, elements of graphic…
Introduction of digital marketing- Module 1
We must be aware of the history of digital marketing before diving into digital marketing. Nowadays digital marketing is shining like a crystal with growing opportunities…
Summary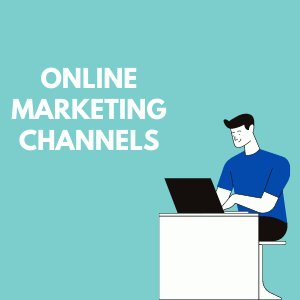 Article Name
What are Online Marketing Channels?
Description
Online Marketing Channels are basically channels or traffic acquisition channels from which you can get traffic to your website and make conversions or complete other specific goals.
yugam mehta
Digiaaj
https://digiaaj.com/wp-content/uploads/2019/05/Digiaaj.com_.png