Being a blogging beginner, you must learn the right way of doing it. We are giving you some important blogging tricks that you must follow. Following these blogging tips, would help you to write your post with minimum mistakes.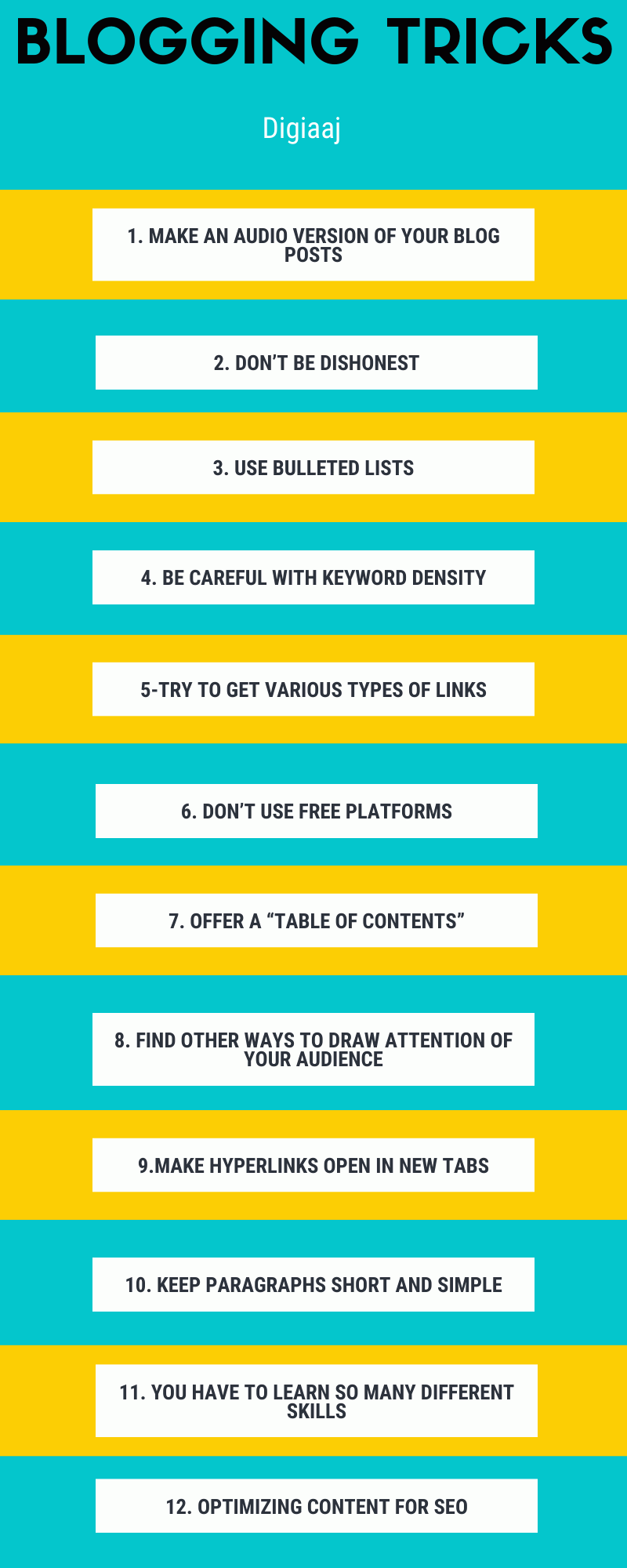 Scroll down and read for more information!
1.Make an Audio Version of Your Blog Posts
Recently, I have learned a new blogging trick that can give you more traffic or audience but from different sources or platforms.
Making an audio version of your blog posts to share as a podcast feed, is one of the best blogging tricks that you must follow. 
This is a new way to share your content to a podcast audience and let people consume editorial content in a new, fast, and easy way.
As a blogger who wishes to get content out to a larger audience, making an audio blog version of your blog post. It's an extremely powerful way to increase reach and deliver content to a new set of audience in the way they like. 
If you can start in your voice it would be great but somehow if you can't then what?
Bonus Advice: Use free tools for converting text to audio!
Now in Blogging, one thing is clear, Dishonesty is bad! That's right. 
It is one small blogging trick but very useful.
Tell your audience exactly what you know about the topic, what are the sources of the topic if possible, and tell them why it's important. Don't exaggerate.
Just be straight to the point.
One of the crucial blogging tricks that you keep in MIND!
If you write a blog post which is around 1500 to 3000 words, you must find a way to share an important part of your article as a bulleted list to break up large text paragraphs. 
This helps the reader in reading the posts conveniently and is more user friendly. 
Additionally, your audience will appreciate the ability to highlight important section of the article
Neil Patel also uses bulleted lists to draw the reader's attention to the most important points that he wants to highlight.
4. Be Careful with Keyword Density
KEYWORD DENSITY! You know how major this blogging trick is!
It's easy for bloggers that they forget about the keyword density and might overuse it.
If you overuse a keyword in your blog then later you find issues with SERPs ranking possibilities. Google will penalize your article for keyword stuffing and you can end up harming your other blogs articles as well and even decrease Domain Authority and Page Authority.
The general rule of thumb is to include your keyword 1 to 2 percent and then using synonyms, long-tail and related keyword phrases is the best thing to practice that will enhance the relevancy of your content.
5.Try to Get Various Types of Links
Doing quality Link Building is a blogging trick you must be aware of!
There are only two types of links: Follow links and No-follow links.
In Follow links Link Juice is passed to your site but in No-follow links Link Juice is not passed to your website.
Get links from other sites as well like:
Social networking sites like Facebook, LinkedIn etc.
Social Bookmarking sites Stumble upon, Reddit etc.
Photo sharing sites like Flickr, 500px etc.
Video sharing sites like Youtube, Dailymotion etc.
PPT Submission sites like slideshare, edocr etc.
Audio Sharing sites like Podbean, SoundCloud etc.
It is about performing off page tasks for a specific webpage or of your homepage.
Getting Backlinks to your blog is important and what more important is the QUALITY of your BACKLINKS!
6. Don't use free platforms
This blogging trick plays a key role in blogging!
If you are serious about blogging then NEVER EVER, go for a free blog.
A free blog will not have custom domain and you will end up promoting the free platform.
Also a free platform will not provide you means to advertise, you to upgrade it, so it's better to start a blog with your custom name.
A good domain and hosting account are crucial, so don't care about money.
Use WordPress for blogging.
Go and start your blog by reading this article How to begin a blog in 2020
7. Offer a "Table of Contents"
Now, honestly while researching this article I came up with a new thing.
One of the best blogging tricks that I have come with. 
It is Table of Contents, which I have realised is important in SEO Perspective, User- friendly and makes your blog look attractive.
It will give readers an idea about the information you are providing. 
Each post should have a clear introduction, middle, and end, with plenty of subheadings. 
Always remember to show a "table of contents" at the beginning of a post. It is highly recommended! In this way, readers can jump to whatever part they are interested in and skip the other ones.
The important thing in blogging which matters is that when you learn something try to implement it.
In this you can see I have added a Table of Content and an Audio Version of my blog post.
Google sees these things also.
8. Find Other Ways to Draw Attention of your Audience
It is one of the best blogging tricks for 2020!
Doing blogging and capturing attention both are very different. Understand it!
When you fail to capture readers attention, ultimately you will rank also!
How?
See if your readers will get attracted to your content they will not be at your blog which means there will be less time spent on that blog, no social shares and Google algorithm notices all these factors in ranking.
So, when it comes to capturing your readers' attention, get creative! Try to represent your content in new ways like:
Videos

Info-graphics

Slideshows

Podcasts

Tables
All these are mind blowing ways to get your readers attention but, they will also engage.
I have started implementing it and will implement it in my old blogs also.
9.Make Hyperlinks Open in New Tabs
When you make hyperlinks in your blog posts whether it is an internal link or external link, it does not make a difference.
Always make the hyperlink open in a new tab so when the user exits that page he/she is still on your blog! This is a user -friendly blogging trick for 2020 which you can do easily by yourself!
Small blogging trick but quite useful even though I didn't know about it.
10. Keep paragraphs short and simple
The cleaner your blog is, the more users will feel comfortable. 
How to execute this blogging trick?
Short paragraphs are not boring but long seems to be boring. 
Do you get that?
Short paragraphs makes reading easier, because our brains take in information better when it's broken into small pieces. Also it doesn't look bulky.
See?
11. You Have To Learn So Many Different Skills
Now it's true! Blogging requires many skills.
One of the best blogging tricks which will make you expert in all areas required when you start blogging!
It will make you a skilful person as well.
It's not hard yet not easy, you have to practice everything and everyday!
Through my blogging I have learned creating animated videos, graphics,content writing, social media manager, SEO expert, website designer, the list continues.
The more you learn the less you have to depend on someone.
So if you have decided to start a blog, get ready for a solid learning curve and to dip your fingers into a lot of pies and become a digital jack of all trades!
12. Optimizing Content for SEO
So THIS IS ONE OF THE MOST CRUCIAL BLOGGING TRICKS that you must KNOW!
This is important if you want to rank organically in SERPs.
In the blogging world, SEO is tricky. 
On the one hand, you should give more preference to SEO over your user's experience (UX). 
But you should not either ignore SEO.
The objective is to find the balance.
If you want to improve your SEO ranking, then we highly recommend that you must optimize your blog post for important SEO ranking factors.
Below are some of the tips that we follow:
Add a proper and relevant meta title

Add a proper and relevant meta description

Optimize your blog post for focused keywords

Use related keyword variation in your blog post

Add alt-text in your blog post images

Add internal links to your other content

Add external links to your other content

Proper Heading tags
Blogging Tricks : THAT'S A WRAP
Now that's my 12 Best Blogging Tricks for all of YOU! 
Hope, this article will help you to grow your website traffic in 2020 through blogging. 
Just keep these blogging tricks for 2020 on your mind and implement it precisely.
Summary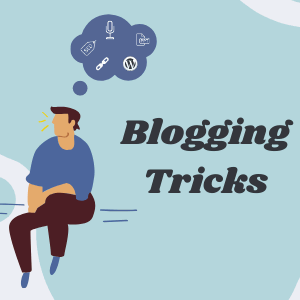 Article Name
yugam mehta
Digiaaj
https://digiaaj.com/wp-content/uploads/2019/05/Digiaaj.com_.png